Heritage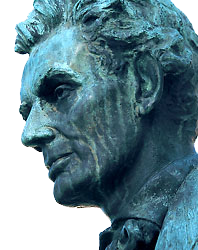 Lincoln Memorial University grew out of love and respect for Abraham Lincoln and today honors his name, values, and spirit. As the legend goes, in 1863 Lincoln suggested to General O. O. Howard, a Union Army officer, that the people of the Cumberland Gap region were loyal and he hoped that when the war was done, their loyalty would be rewarded.

In the late 1800s, Colonel A. A. Arthur, an organizing agent of an English company, purchased the area where Lincoln Memorial University is located. His company built a hotel of 700 rooms called "The Four Seasons," as well as a hospital, an inn, a sanitarium, and other smaller buildings. Roads were laid and the grounds planted with a wide variety of shrubs and trees. In 1895 the company was forced to abandon its project when a financial panic swept England.

Reverend A. A. Myers, a Congregationalist minister, came to the Cumberland Gap in 1888. He succeeded in opening the Harrow School, established for the purpose of providing elementary education to mountain youngsters. On a visit to the area to give a series of lectures at the Harrow School, General O. O. Howard remembered his commitment to fulfill Lincoln's request and he joined Reverend Myers, M. F. Overton, C. F. Eager, A. B. Kesterson, and M. Arthur in establishing Lincoln Memorial University. That group, along with Robert F. Patterson, a Confederate veteran, became a board of directors and purchased The Four Seasons property. In commemoration of Lincoln's birthday, the institution was chartered by the State of Tennessee on February 12, 1897, as Lincoln Memorial University.

Since that time, Lincoln Memorial University has sought to provide educational opportunities, development of community leadership, and the expansion of economic and social forces within its region. More than 700 alumni have entered medical or legal practice in Appalachian communities. Another 3,000 have become professional educators, serving in positions ranging from elementary school teaching to university presidencies. Twenty-five graduates have published widely recognized books, dramas, and musical compositions. Jesse Stuart is one such author; his various works have been translated into seven languages.

Lincoln Memorial University has enjoyed an outstanding international partnership with the Kanto International Senior High School in Japan. Since 1979 more than 5,000 Kanto students have visited the campus and studied English-As-A-Second Language along with a curriculum including history, communications, American culture, homestay and various activities.

History buff? If you'd like to read more about our beginnings during the turbulent era of the Civil War, it's a fascinating historical study. Download this PDF.
Mission and Purpose


Lincoln Memorial University is a comprehensive values-based learning community dedicated to providing quality educational experiences at the undergraduate, graduate, and professional levels. The University strives to give students a foundation for a more productive life by upholding the principles of Abraham Lincoln's life: a dedication to individual liberty, responsibility, and improvement; a respect for citizenship; recognition of the intrinsic value of high moral and ethical standards; and a belief in a personal God.


While primarily committed to teaching, the University supports research and service. The University's curriculum and commitment to quality instruction at every level are based on the beliefs that graduates must be able to communicate clearly and effectively in an era of rapidly and continuously expanding communication technology, must have an appreciable depth of learning in a field of knowledge, must appreciate and understand the various ways by which we come to know ourselves and the world around us, and must be able to exercise informed judgments.


The University believes that one of the major cornerstones of meaningful existence is service to humanity. By making educational, service, and research opportunities available to students, Lincoln Memorial University seeks to improve life for the students it serves. While serving students from throughout the state, nation, and many other countries, the University retains a commitment to enrich the lives of people and communities in the Appalachian region.
Revised July 6, 2017; approved by Board of Trustees, November 10, 2017