To inquire about this program:
Kay Lewis| 800.325.0900, ext. 7068 | kay.lewis@lmunet.edu
Lisa Horton| 800.325.0900, ext. 7057 | lisa.horton@lmunet.edu

Program Information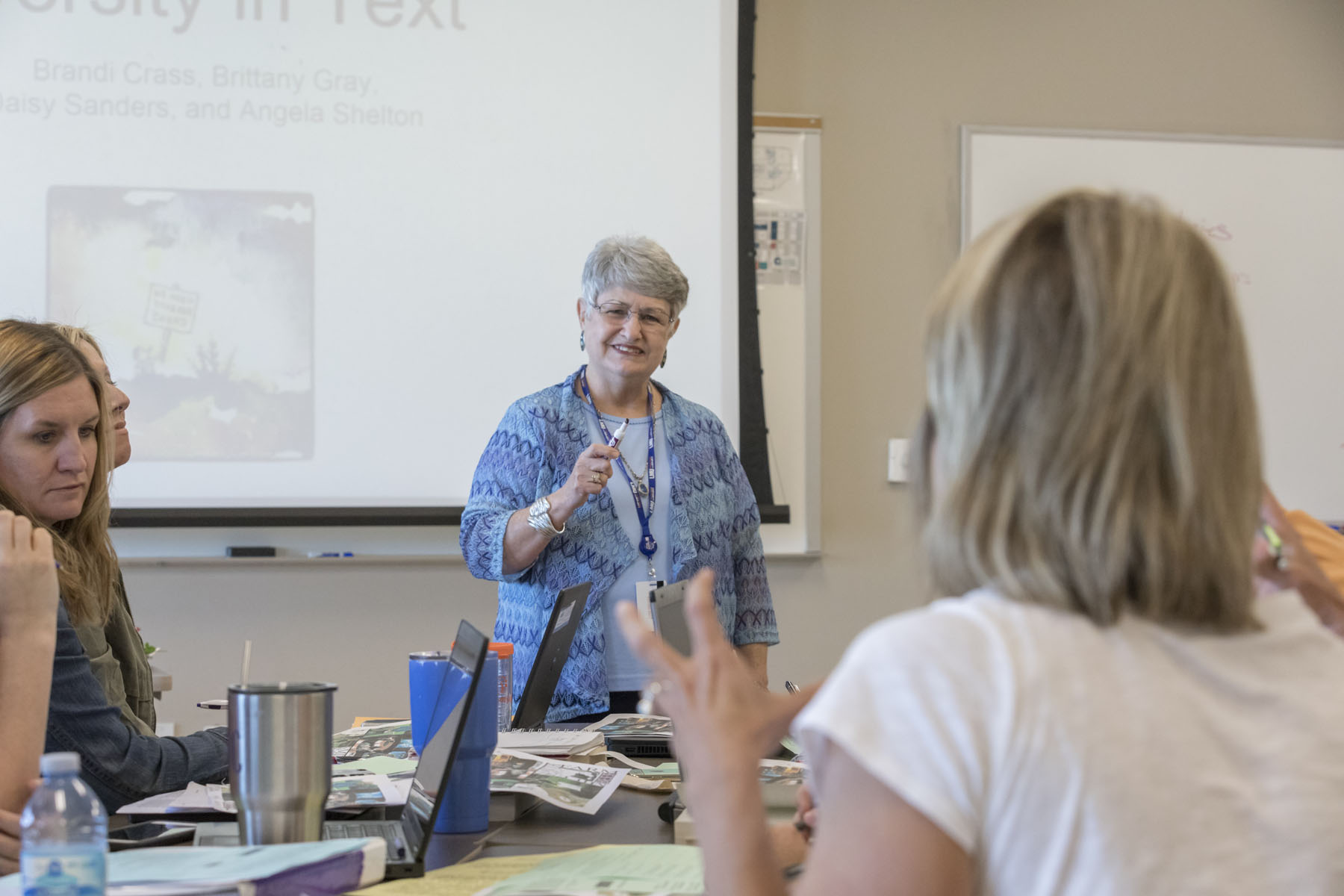 The Educational Specialist degree program is a 30-semester hour program designed to extend and expand the student's level of professional competence beyond that attained through the master's level program, to bring the student up to date on matters relevant to the field of specialization, to enable the student to read and understand research in the field of specialization, to apply relevant research findings to professional activities, to stimulate the student to assume a leadership role in the specialty, and to prepare the student in that role. Students may transfer in a maximum of six (6) credit hours toward degree requirements.

Programs are available in the following:
Curriculum and Instruction
Instructional Leadership
Educational Leadership
Applicants must hold a master's degree from an accredited institution.
EdS Hybrid Information - PDF
EdS Online Information - PDF
*The Curriculum and Instruction, Educational Leadership, and Instructional Leadership concentrations are hybrid design programs.
Program Design
Lincoln Memorial University offers EdS classes at the following extended campus sites:

Kingsport, TN (Kingsport Center for Higher Education)
Knoxville, TN (Cedar Bluff)
Harrogate, TN (on-campus program, 55 miles north of Knoxville)
Chattanooga, TN (Chattanooga State Community College location, at: 4501 Amnicola Hwy Chattanooga, TN 37406)
Saturday Class Meetings
ALL CAMPUSES MEET ON THESE DATES

Fall 2020

Spring 2021

Summer 2021

August 22

January 9

May 15

August 29

January 16 – Online

May 22- Online

September 12

January 30

June 5

September 19 - Online

February 6 – Online

June 12 – Online

September 26

February 20

June 19

October 10

March 6

June 26

October 17

March 13 – Online

July 3

October 24

April 10

July 10 – Online

November 7 - Online

April 17 – Online

July 17 - Online

November 21

April 24

July 24

Research Track Option (Fall Cohorts Only):
Within each of the three Program Concentrations there is now offered a Research Track Option (RTO). The RTO is designed for the candidate contemplating further studies with the ultimate goal being the earning of a terminal degree, EdD. The RTO model is structured within the CI, EL, and IL concentrations. When registered in the RTO, candidates will follow the same core courses, but will substitute EDUC 670 – Research I for the corresponding Clinical Course and will substitute EDUC 671 - Research II for the EDUC 665 Action Research Course and will substitute EDUC 672 – Research III for the corresponding Clinical Practice Courses.
Upon successful completion of the RTO, each candidate will be prepared to enter into the scholastic realm of any Doctoral program with a base of knowledge and understanding by developing a solid hypothesis supported by multiple reviews of scholarly journals, articles, abstracts and other relevant literature, culminating in a rigorous survey of the methodologies in place in all dissertations and research publications.
For the Cohort enrolling in the RTO, the classes will meet on the Harrogate and Cedar Bluff campuses only. Prospective Candidates enrolling on these two campuses will take the core courses at the same campus.
As you review the application packet, every candidate will find that Lincoln Memorial University will provide everyone a quality within our programs that maximizes each person's potential to become a truly inspirational educator who is an inspiration to future generations.
Course Descriptions
EDUC 670 – Research I – Reading and Designing Education Research within Clinical Application - 3 credit hours
This course focuses on the identification of a research topic related to educational practice. The topic is explored in the literature, resulting in the design of a research proposal. The application focuses toward clinical experience in collecting, analyzing and utilizing data to inform practice, instruction, and assessment as applied to the development of a comprehensive research statement.
EDUC 671 – Research II – Writing Literature Review and Clinical Application - 3 credit hours
This class requires a thorough examination of literature related to an identified problem or topic, resulting in a written review formatted and documented according to the APA Manual, 6th Edition. The clinical practice is focused on identifying, analyzing, and writing a series of literature reviews aligned with relevant research topics.
EDUC 672 – Research Application III - Methodology and Clinical Application - 3 credit hours
This course completes the research cycle culminating in a scholarly project designed to improve educational practice. The clinical application examines research methodologies and basic statistical approaches. Research skills including but not limited to information retrieval, critical evaluation, report organization, and statistical methodology are developed and reflected in formal research proposals.