Innovative, Interactive, and Integrated Clinical Doctorate for PAs
The DMS curriculum is a professional medical education didactic program resulting in a Doctor of Medical Science (DMS) degree.
The student can opt to focus his/her medical education in the study of Primary Care Medicine, Internal Medicine, Emergency Medicine or Medical Education. The offering of the Emergency Medicine and Internal Medicine options are contingent on enrollment numbers.
CLINICAL MEDICINE
A physician assistant must be skilled in problem-solving and demonstrate expertise in diagnosis. The DMS curriculum will advance the students' medical knowledge, and provide an opportunity for students to collaborate with medical experts for the advancement of problem-solving skills and diagnosis. The emphasis will be on educating clinicians to address primary care medicine in all health care settings and will employ the distinctive medical model for the maintenance of health and treatment of disease.
Medical Specialties: Primary Care Medicine; Internal Medicine; Emergency Medicine
Medical Subspecialties: Neurology; Psychiatry; Pulmonology; Nephrology; Cardiology; Endocrinology; Hematology; Gastroenterology; Infectious Disease
All medical specialties and subspecialties courses are taught by board certified, experienced medical experts with multiple years of experience in their field.
MEDICAL EDUCATION
In the Medical Education Cognate option, the curriculum, instruction, and assessment strategies help those who are teaching (or who aspire to teach) improve their effectiveness while implementing constructivist, student-centered (competency) instructional models. We model what we teach in how we teach so the students (who are teachers themselves) can experience these methods and strategies from their students' perspectives and, at the same time, learn what those strategies look like from a teacher's perspective.
We study and incorporate newer digital technologies and discuss their potential to change the nature of medical education. Students who have completed the Medical Education Cognate report they began to change their instructional practices well before they finished the Cognate and did not realize, when they first enrolled, how much they would learn and how many skills they would gain.
CURRICULUM PLANS
Clinical Medicine Curriculum Map
Medical Education Curriculum Map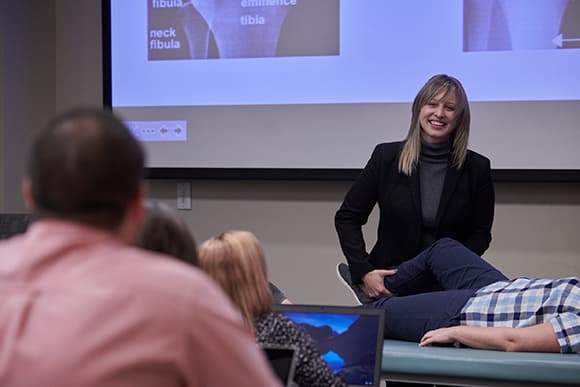 DMS Courses description